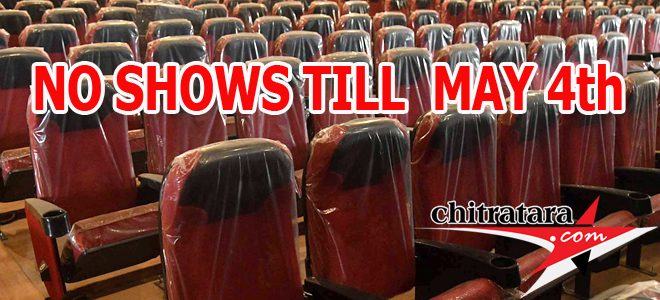 Once again, the business of entertainment has received a blow from Corona Pandemic wave 2. On Tuesday night, the Karnataka Government issued strict rules and regulations with the Corona spread increasing. It is night curfew and weekend lockdown in Karnataka state with Corona reaching 21000 cases daily in the state.
The Curfew and weekend lock down has pushed the entertainment industry to a bad stage. There will be no exhibition of cinemas until May 4th. The seating capacity for cinema halls was fifty percent from the last few weeks.
The films released recently `Krishna Talkies` and 'Kodemuruga' called off in the last week with the present scenario. The big films like Pogaru, Roberrt and Yuvarathna released in the first quarter had good business.
The shooting and post production activity-taking place depends on the individual capacity as the Corona guidelines apply.
From October 15 2020, the theaters were open to fifty percent capacity. With this the theatres to reopen after 217 days in India and the Corona Pandemic has swallowed thousands of crores of business in this time.
The 100 percent occupancy came into effect from February 2021 and it was a rejoicing moment. As Corona set its second wave the Karnataka government announced fifty percent occupancy after the release of power star Puneeth Rajakumar 'Yuvarathna'. On KFI, a request for one-week relief was extended. From the seventh of April, it was as usual fifty percent occupancy.
From 21st of April – Sri Ramanavami day the theatres are closed again.