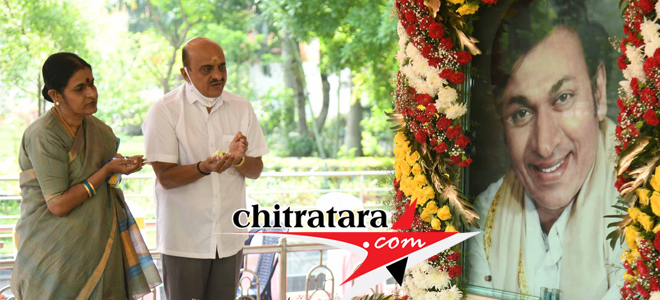 The icon of Kannada cinema Dr Rajakumar 92 birth anniversary on 24th of April was held in a simple way like the previous year. The Karnataka government also cancelled the annual event because of the Corona pandemic.
Power star Puneeth Rajakumar rendered a song of his Papa – Ninna Kangala….and he reached the Dr Rajakumar memorial on 23rd (as lockdown starts from 24th of April 10 am onwards for two days) with his elder brother Dr Shivarajakumar to pay respect to his icon father.
Raghavendra Rajakumar reached the memorial on the morning of April 24, spent some time, and delivered a song in front of Samadhi.
Later to arrive are Smt Lakshmi and SA Govindaraj. Smt Lakshmi Govindaraju missed preparing `Kesari Bath` , a very fond item of her father`s this year too. It is Lakshmi Govindaraju preparation of Kesari Bath that Dr Rajakumar used to distribute when he was living and appreciating it. As a practice, Lakshmi Govindaraju after the demise of her father Dr Rajakumar prepared Kesaribath and used to distribute it on April 24 for family and friends. This year I am missing the preparation she stated speaking to the media.
As usual Dr Rajakumar memorial was decorated with flowers and there were a few fans this time to wish the birthday for the icon of Kannada cinema.