SHIVRAJKUMAR SING FOR V RAVICHANDRAN FILM
Posted date: 30 Wed, Jun 2021 07:28:01 PM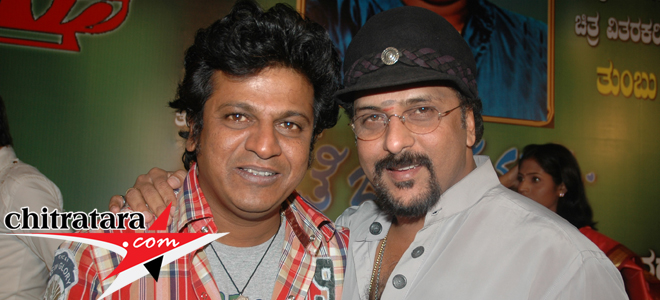 The close pals in the cinema industry crazy star Dr. V Ravichandran and Karunada Chakravarthy Dr Shivarajakumar are uniting for a purposeful and meaningful film of producer NS Rajakumar and director BM Giriraj film 'KANNADIGA'.
Dr Shiv is not acting in this film but rendering a beautiful song for 'Kannadiga' that stars crazy star V Ravichandran. In 'Kodandarama' the two acted together, in Vajrakaya of Dr Shiv, there was a guest appearance from V Ravichandran.
The song Dr Shiv delivers is in folk style and it is a title track for the film 'Kannadiga'. A Harsha famous dance director and director of high reputation choreographed this song.
V Ravichandran the showman of the Kannada cinema industry is seen in altogether different get up in this film 'Kannadiga'.
Kannada Cinema's Latest Wallpapers
Kannada Cinema's Latest Videos
Kannada Movie/Cinema News - SHIVRAJKUMAR SING FOR V RAVICHANDRAN FILM - Chitratara.com
Copyright 2009 chitratara.com Reproduction is forbidden unless authorized. All rights reserved.