DK SHI RELEASE 5D FIRST LOOK
Posted date: 13 Tue, Jul 2021 06:35:58 PM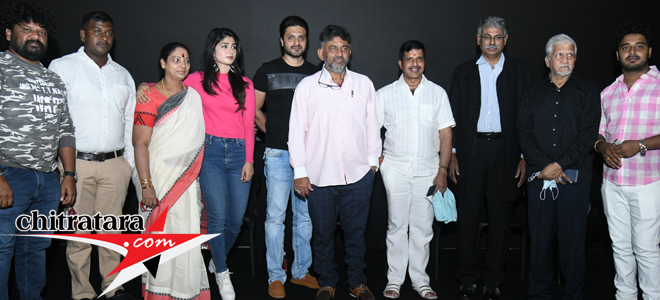 The heavy weight politician from Congress I D K Shivakumar although as cinema connection (he started Indira theatre in his earlier days) rarely picks the cinema functions.
The other day DK Shivakumar billed as the next Karnataka Chief minister by SV Rajendra Singh Babu at the first look event of `5D`Kannada film (there was 5G Kannada cinema in 2017) starring Adhitya and Aditi Prabhudeva recounted the difficulties of the cinema industry.
Cinema industry is the one that creates employment. In this Corona period a lot of cinema industry personalities lost jobs and suffered. Basically I was an exhibitor before coming to politics. I came here because of S Narayan. He also came from scratch in his life and achieved 50 film direction besides other activities in cinema stated DK Shivakumar releasing the first look.
I saw the first look of 5D film today. It stated Aditya is a handsome actor. I had always liked DK Shivakumar`s smile. It is so beautiful. I used to come to Shankar Nag theatre to watch movies. Now it is my film 5D first look release that gives me happiness. There are different costumes and looks. I am not supposed to reveal anything about the film. Let us watch the film in the theatres stated Adhitya.
The first schedule of shooting has been completed and we are looking for a second schedule. The protagonist is a gutsy person. That is the reason why we have invited `Kallu Bande`DKS stated story, screenplay, dialogue, lyrics, music and director S Narayan.
Noted director SV Rajendra Singh Babu said S Narayan is from my team. Like how cinema people NTR, MGR, Karunanidhi, Jayalalitha became chief ministers, DKS also has the background of cinema. He would be chief minister in the days to come, pointed out SV Rajendra Singh Babu.
Advocate Shankarappa, actress Aditi Prabhudeva, One to hundred organization team were present and sought media support for this film `5D`.
Kannada Cinema's Latest Wallpapers
Kannada Cinema's Latest Videos
Kannada Movie/Cinema News - DK SHI RELEASE 5D FIRST LOOK - Chitratara.com
Copyright 2009 chitratara.com Reproduction is forbidden unless authorized. All rights reserved.