YASHAS SOORYA MARRIED AMBIKA
Posted date: 15 Sun, Aug 2021 10:09:15 AM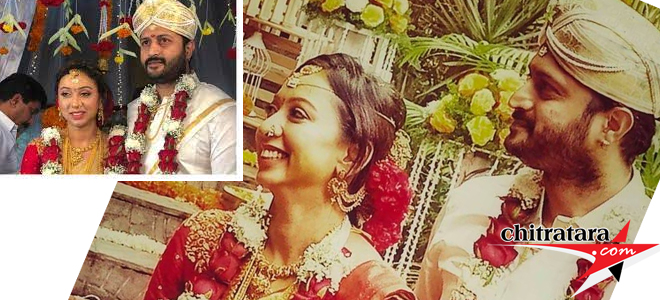 The protagonist of the films like Yuga Yugagale Sagali, Shishira, Ramadhyaana and later co actor in challenging star Darshan films like Chingari, Chakravarthy, Kurukshetra, Odeya, Jilebi, Paramashiva etc married after a decade plus stay in the Kannada filmdom.
On August 12, 2921 Thursday morning actor Yashas Soorya married Ambika and the traditional Sapthapadi was held at Sri Dharmagiri Manjunatha Swamy temple in Banashankari, Bengaluru. A simple marriage maintaining the covid rules – only closets of the family were present for the marriage.
Yashas Soorya, a handsome actor currently acts in a guest role in Golden star Ganesh 'Trible Riding'.
Happy married life to Yashas Soorya and Ambika.
Kannada Cinema's Latest Wallpapers
Kannada Cinema's Latest Videos
Kannada Movie/Cinema News - YASHAS SOORYA MARRIED AMBIKA - Chitratara.com
Copyright 2009 chitratara.com Reproduction is forbidden unless authorized. All rights reserved.