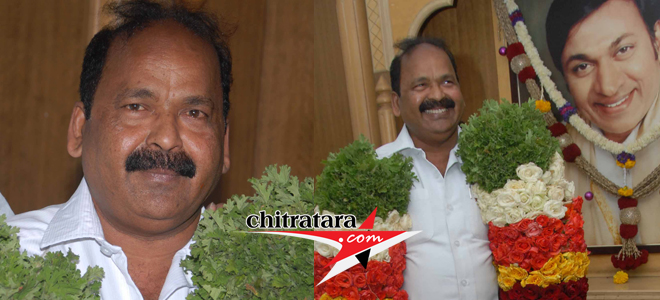 One of the very humble producers of Kannada cinema B Vijayakumar passed away after a prolonged illness. He was suffering from a paralytic stroke. He was 63, leaving behinson and wife.
The noted producer of films Mouna Geethe, Lion Jagapathi Rao, Avathara Purusha, Jagadeka Veera, Simhadriya Simha films in Kannada B Vijayakumar was an ardent fan of Dr Vishnuvardhana. B Vijayakumar. He is the first one to notice the call given by Prime Minister of India Narendra Modi on`Swachcha Andolana`– `Swachcha Bharata` happens to be the last film of producer B Vijayakumar. He announced the 100th film of noted director Sai Prakash but it could not shape up.
In the 2012-2013 term B Vijaykumar besides being the Karnataka Film Chamber of Commerce President was also chairman of Karnataka Silk Industries Corporation.
A realtor by profession B Vijayakumar was member of the Karnataka State Film award committee in 2007-2008. He had seen various ups and down in real life. The real estate business not working out put him into troubles.
B Vijayakumar, a staunch fan of Dr Vishnuvardhana, enjoyed the closeness of the icon of Kannada cinema for nearly 38 years. Vijayakumar`s affection for Dr Vishnuvardhana was pure, Dr Vishnu once said that he wants to be his son in the next `Janma`.
Hailing from Nagavara village, son of Balagurumurthy and Kanthalakshmi – Vijayakumar is the 9th son of 12 children in the family. He was born on 20 April 1958. He studied up to SSLC. Wearing good clothes was a hobby from school days. He was a good friend to so many in his school days. Spending money for a friend`s problems and as a schoolboy he was keeping Rs.100 in his pocket.
As he grew up in the land business, cinema, negative finance, touring talkies, production and distribution of nearly 100 films kept him very popular.
In 1972, B Vijayakumar the man from `Nagavara`village had watched `Nagarahavu` for 108 times. B Vijayakumar decorated the very big garland to Dr Vishnuvardhana in a function at Shankarapuram.
The bondage of B Vijayakumar and Dr Vishnuvardhana continued and when `Socks`industry was set up by the legendary actor, it was Vijayakumar who came forward for investment. He acted as a college student in Dr Vishnu`s `Sandarbha` Kannada film.
May his soul rest in peace – www.chitratara.com