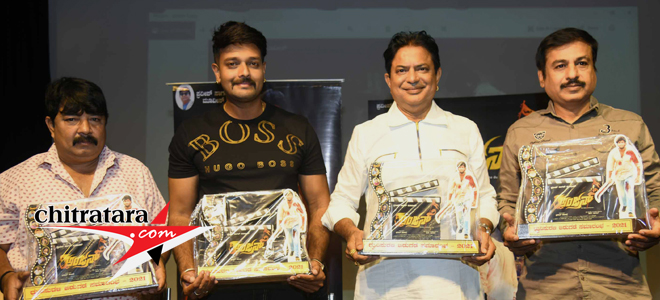 A mechanical engineer by profession residing in Europe for nearly two decades Pradeep Soans for his respect to Kannada language has taken up a few films. One of them is 'ANJAN' – the audio and trailer of the film released at Dr C Ashwath Kalabhavana on Independence evening in NR Colony, Bengaluru.
Serving as General Manager of a Company abroad Pradeep Soans first made an art film 'Prathibimba' and this 'Anjan' is his first commercial venture. He has his third film 'Bank Loan' under production. Do not allow the Kannada cinema industry to sink appeals. He plays a negative shade opposite in 'Anjan' Kannada film.
Protagonist of the film is 'Anjan' and a film in his name gives him immense pleasure. He has been in the industry for the last 20 years and acted in very prominent television serials. Like how a name of the house the name for the film is very important says this hero Anjan. He has two shades in this film. holding long in his right hand confused a few that he looks like Shivarajakumar. Some even confused him for his looks like Darshan. He has been a gym trainer of challenging star Darshan. He has the village and city shade. For what reason he comes to the city is interesting. Mother and sister are like two eyes for him. Vibhisha plays the role. How Anjan fulfils the responsibility on his shoulder is the climax part of the film. The handicap issue, rowdy attitude and Anna Thangi are the main focus in this film, adds Anjan.
'Anjan' story, screenplay, dialogue and direction handled by R.Sagar. This is his first commercial venture. He worked under Ha Su Rajashekhar, Teshi Venkatesh, Iqbal Raj and in a few films in Tamil he worked as an assistant. There are five songs and four action portions he says.
Gurudut Musuri, the man behind the camera says this is a fine commercial venture with a village backdrop and is attractive for a family audience.
Pradeep Sagar Movies has music from Gopi Kalakar, Kote Raju has done action, Maruthi SP is dance director. The shoot was held in Shivamogga, Shankaraghatta, Honnavara and Bengaluru.
Joshita Anola is the female lead. In the supporting cast are Pradeep Soans, Karate Muheeb, Lankesh Ravana, Naveen, Vibhishi, Harsha and others.