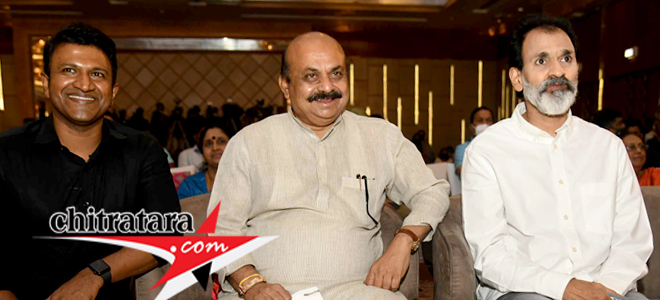 The Karnataka Chief Minister Basavaraja Bommai in his eloquent speech after releasing the 'Dr Rajakumar Learning Application' (DRLA) on Monday night stated that imparting education is the best thing to happen today. Money and land is not important – It is a great thinking action for the students. In today`s world the 'power has shifted to Gnana' stated Basavaraja Bommai.
Achievement of 'Gnana' is very complex and complicated. One need to have 'Athma Shuddi' he said and this DRLA is nothing but 'Parama Hamsa' – for the requirement of pure 'Gnana' the inquisitive and innocent is the best thing to happen stated the Karnataka Chief Minister at Sheraton Hotel.
Drawing his attention to the contribution made by Dr Rajakumar he said he is the 'Ekameva' a 'Sadhaka' – Dr Raj maintained the innocence – among millions he was shining. The behavior, approach and his talk is not possible to find. Dr Raj nature the officials in the government should follow. No one can inculcate the nature of Dr Rajakumar, he firmly said. Dr Rajakumar was a student throughout his career. He maintained the innocence and he is like the greatest teacher for all of us, he pointed out. For Sadhaka like Rajakumar there is no death, they live forever.
The Chief Minister in his first best speech after taking over as CM stated that he knew the family of Dr Rajakumar very closely. Raghanna is my best friend. When Paravathamma asked me to get a gas connection for the huge family I inquired with my father SR Bommai quota and got one. There is no need to say this but the closeness I wanted to explain. After getting connected Parvathamma invited me for lunch in Hubballi and said I have to look after Raghavendra who is taking over the distribution sector of the new office.
The Chief Minister applauded the new route of progress in the education field of Guru Rajakumar, grandson of Dr Rajakumar. You have developed the application DRLA that is like 'Parama Hamsa' (Goddess Saraswathi Vahana) – your ideals are close to Prime Minister Narendra Modi`s National Educational Policy' lauded the chief minister Basavaraja Bommai. At the same time the Chief Minister BB mentioned an advice to spread 'Gnana' besides the educational requirements.
Earlier to the chief minister Basavaraja Bommai speech Raghavendra Raghavendra said let us all pull the 'Chariot' and reach out he said.
The chief minister Basavaraj Bommai is like my brother mentioned Power star Puneeth Rajakumar the 'Reach Further' Dr Rajakumar Learning Application is very special and great effort – Guru alias Yuva has worked since 2017 and I am not educated to speak much about this learning app stated Puneeth Rajakumar.
DRLA – Dr Rajakumar learning app is a research based online education platform to make quality learning affordable and accessible. The first step is to aid PUC students to benefit from efforts and soar ahead. Dr Rajakumar learning app wants to give everyone, especially financially burdened young aspirants a fair chance to achieve their dream.
Dr Rajakumar Learning App is humbled to be able to utilize this portal to present 'Kannada Kali' and spread the light of Kannada in an easy, effective and enjoyable way.