KALIVEERA RE-RELEASE IN NOV
Posted date: 30 Mon, Aug 2021 01:25:25 PM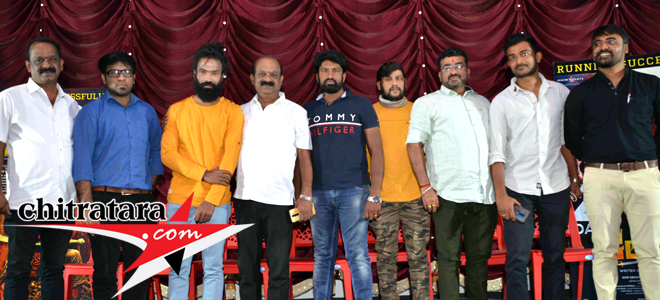 Hurricane developments in this film after 20 minutes of 'Kaliveera' got released hurriedly. The team is repenting now. The response is good in four weeks, the team claims 25th day in the posters but it is yet to get back the investment. However, the director Aviram and producer Srinivas are having business meetings with the OTT platform for this film. The duo is confident of getting back profits out of it.
The 50 percent exhibition in cinema halls has been the main blockade for this action extravaganza. Ekalavya the debutant as protagonist shines in his rough and tough role.
The exhibition capacity is 100 percent it would be good and we have expectations from re-release says one of the producers KMP Srinivas. There is no negative talk about the film his happiness right now.
We did not meet the expectations in collections but good reviews for Kaliveera given satisfaction says director Aviram who kept Uttar Karnataka people in mind while doing this film. The piracy for this film is the most disappointing factor he says. Pirated 'Kaliveera' film sold for Rs.10 in the market is his worry.
Ekalavya after the release of the film wanted to know the actual reactions from the public. He went in disguise to know it and felt happy for the positive response.
Distributor Vijay intends to re-release the film in November this year. People are not coming to watch films, he says.
Cinematographer Halesh, Bama Harish and Girish were present at the media briefing.
Kannada Cinema's Latest Wallpapers
Kannada Cinema's Latest Videos
Kannada Movie/Cinema News - KALIVEERA RE-RELEASE IN NOV - Chitratara.com
Copyright 2009 chitratara.com Reproduction is forbidden unless authorized. All rights reserved.