DEAR SATHYA RIGHT APPROACH
Posted date: 31 Tue, Aug 2021 06:12:44 PM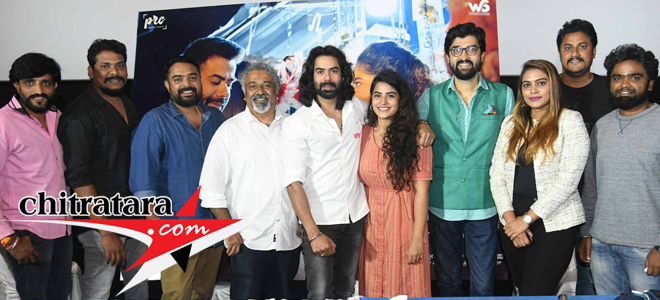 A Pan India cinema made in Kannada 'Dear Sathya' is all set for release in the month of September. Meanwhile the film team took the right approach in releasing the trailer of the film at Victory cinema hall in Kamakshipalya on Sunday evening.
The protagonist of the film Aryan Santosh (earlier Santosh) is a delivery boy of food items. So a half dozen Zomato and Swiggy boys – Paramesh, Ravikumar, Gurukiran, Manoj, Santosh, Sachin came to release the trailer of 'Dear Sathya'. The day happened to be the birthday of Santosh Aryan – he was up in joy.
This is a Purple Rock Production and Winter Bridge – Ganesh Pappanna, Srinivas, Yathish Venkatesh are partners. Ganesh Papanna addressing the media spoke about the journey of the film in the last two years. We are releasing the film in Kannada, Telugu, Tamil, Hindi and Malayalam he said.
Srinivas recalling the first OTT film Binna said we are up to world contents in our production house. This is a commercial package and we have plans to come in September, he said.
Director Shiva Ganesh pointed out that Santosh was like Vikram and Bethal duo. Actor Archana Kottige is like a clean sheet. Santosh should get a commercial break, he stated.
Actor Santosh with 10 years of experience in the filmdom says this is a very different movie from his career. I had to change and adjust to this role. In the process of this film, I lost my parents. I took courage and went ahead. The first shot I faced for this film is 'crying' one. I got more courage after the particular scene he stated. Disclosing the topic of the film Santosh stated the incident for the film is what happened on the Chennai streets. Apparently Aryan Santosh is also co-producer of the film. He cut a cake in the presence of his team for his birthday.
Archana Kottige in her first commercial venture made a special mention about the song Sundaravayithu Mana….that was shot in Rajasthan.
Bhargavi Vikhyati is a fashion designer from this film who already has quite a few films in her account. Sridhar Sambram has scored music for this film. Kung fu Chandra had done stunts. Balu Ganesh and Karthik Subramanya were also present at the media briefing. Kari Subbu, Ba Ma Harish and Ba Ma Girish were present as guests.
Kannada Cinema's Latest Wallpapers
Kannada Cinema's Latest Videos
Kannada Movie/Cinema News - DEAR SATHYA RIGHT APPROACH - Chitratara.com
Copyright 2009 chitratara.com Reproduction is forbidden unless authorized. All rights reserved.