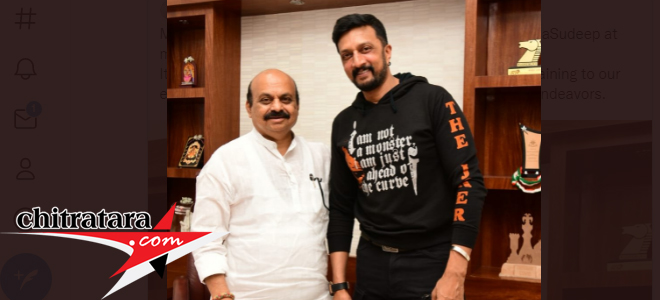 Among all actors of Kannada cinema Abhinaya Chakravarthy Kichcha Sudeep is the first person to meet the new Karnataka Chief Minister Basavaraj Bommai. CM had come as chief guest to Dr Rajakumar Learning Application release and power star Puneeth Rajakumar, Raghavendra Rajakumar and others received him.
Visiting the chief minister Basavaraj Bommai happened from Kichcha Sudeep on the eve of his birthday. Meeting Kichcha Sudeep is a delightful moment, stated the chief minister in a tweet message. Kichcha Sudeep met the chief minister last Tuesday at his home office Krishna and spent some time discussing a few factors.
Basavaraj Bommai Mama is what Kichcha Sudeep mentioned. He is a simple human being. I have watched his growth and supported me in the past-remembered Kichcha Sudeep.
Meanwhile Kichcha Sudeep is not celebrating his 50th birthday. He appealed to his fans to wish from wherever they are. Vikran Rona glimpse is the special treat from director Anoop Bhandari.
Thursday September 2, 2021 at 11.05 'Vikrant Rna' – the dead man's anthem as caption is sure to give thrills. It is a fantasy, action, adventure cum thriller film.
Nirup Bhandari, Ravishanker Gowda, Neetha Ashok and others are in the cast of this Ajaneesh Lokanath music score film.
Jack Manjunath and Alankar Pandian are official producers of this mega budget movie.