GRAND AUDIO LAUNCH FOR PURUSHOTTAMA
Posted date: 08 Wed, Sep 2021 03:17:46 PM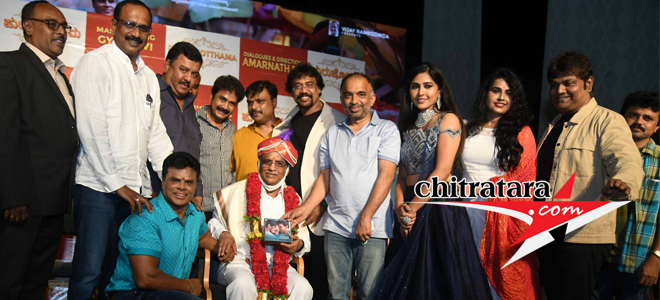 It was a Vav function! He is not just Gym Ravi but GEM Ravi. It was a show of strength by already strong muscular international fame Gym Ravi at the audio release of his film `Purushottama` at KLE Auditorium at Nagarabhavi in Bengaluru on Sunday, 5th September 2021 evening.
The Teachers Day was a grand event day for Gym Ravi productions – he honored his Guru T Venkatesh publisher and printing entrepreneur, launched Gymravi official youtube, the presence of judges, lawyers, IAS, KAS officers, Police officers, media friends and other friends of Gym Ravi portrayed his huge earning of friendship. Gym Ravi`s wife Smt Jyothi was running around making very good and apt arrangements with their daughter at the three hours audio release event.
The first production of Gym Ravi also marked his presence as hero after 150 films in 'Purushottama'.
Gym Ravi alias AV Ravi Mass Darling recounted his days of earning 5 paisa as remuneration, his early days hunger, poverty etc. Poverty taught great lessons he stated. He dedicated the four songs of his film 'Purushottama' to Vijaya Rame Gowda of Bookanakere. Cinema making is like bringing up 'White Elephant'. We thought of one lakh for one song but it went up to Rs.20 lakhs. For the first time I have danced and credit goes to Kalai master, he said. I have won over 300 awards but it is because of the Mithra Foundation in Mysuru Vijaya Rame Gowda who insisted that I should become a hero. I started getting 'Small Halva' thereafter. But it only became Mysuru Pak. The film progressed and my wife Jyothi in consultation with every move contributed to the script and we have jointly written a song that is so apt to the present generation that Gym Ravi could be called as 'Gem Ravi'.
Noted actor Sharan of over 115 films came to the event on just one phone call. In his address, he stated that Gym Ravi had beaten his record. I became a hero in the 100th film but he became a hero via Purushottama. His 150 films mentioned Sharan.
Director Amarnath, cameraman Kumar, actors Apoorva, Nivedhita, Kalai dance master, music director Sridhar Sambram, Kari Gowda IAS, Manjanna (Nikhil Kumaraswamy father in law), Oggarane Dabbi Murali and others were present on the dais.
Nine women did 'Purushottama' audio event lighting the lamp on the stage. The four songs were made available for the audience packed in the KLE auditorium.
Kannada Cinema's Latest Wallpapers
Kannada Cinema's Latest Videos
Kannada Movie/Cinema News - GRAND AUDIO LAUNCH FOR PURUSHOTTAMA - Chitratara.com
Copyright 2009 chitratara.com Reproduction is forbidden unless authorized. All rights reserved.