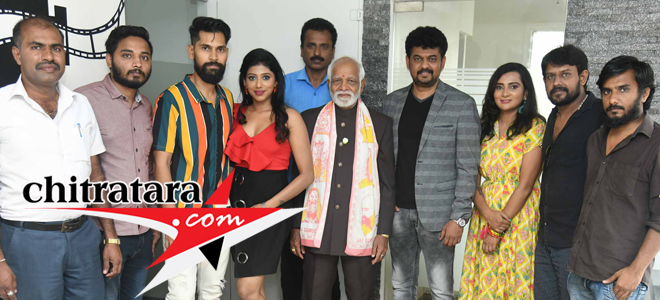 Another nostalgic title for a Kannada film comes from a new team. `Idu Akashavani Bengaluru Nilaya` and its tuning of music early in the morning are unforgettable. This film is all set to hit the silver screen on October 8, 2021.
The Kamalananda Chitralaya has secured this title without any fuss. The only reference in the film is the unforgettable tune. The father character in the film has the habit of switching on radio early in the morning. Otherwise it a village girl destined to prove her strength in Bengaluru – the house is referred as `Nilaya`– Akash is hero name played by Ranaveer Patil (Vinod Patil earlier) and the women centric film heroine is Vaani played by talented actor Nikitha Swamy.
The film produced by Shivanandappa of Ballari district. The documentary on his mentor Yogabrahma Rishi Prabhakara Shastri was planned but before that Shivanandappa and Kamalamma venturing in to this film `Idu Akashavani Bengaluru Nilaya`. Shivanandappa runs a Sidda Samadhi Shikshana Samsthe.
A former cop Vijayakumar (he served for 25 years in police department) written the screenplay and the film is based on his novel. In the last four years Vijayakumar had written four novels. This film is about the atrocity the girl in the village faces and how she takes the revenge. The 30 days shoot was held for this film at the Corona Pandemic time. We have used only the signature tune of Akashavani without disturbing he says.
Harikrishna is the director of this film. He had earlier worked in news channels. This is his second film. Nave Bhagyavantharu is his first direction. He immensely thanked Vijayakumar writer and publisher for the shape up of the film.
Good looking Nikita Swamy is female protagonist in this film. This film is also filled with horror. As a village girl coming to Bengaluru how she achieves her goal is the task, the matrimony issue, a social thought plus the 'Karma Yarannu Bidalla' are tucked in this film she says with confidence.
Vinod Patil is Ranaveer Patil. He hails from northern Karnataka. He has three shades; one of the three is devil role with long hair he says.
Divya of comedy kiladigalu fame is in a maidservant role in this film. she has the Mandya accent that is also filled with comedy she says.
Veteran actor Tennis Krishna in the comedy track worked for one day. He locked his wife in the house and went with actor Narayanaswamy to shoot. He was so well guarded for Corona Pandemic at home. After 14 days he came out of his house to peel the nails in his hands.
Narayanaswamy in the acting field since 21 years in fact suggested the names of Nikita Swamy and Ranaveer Patil to director Harikrishna. I played villain in his first film and now a cop in this film he adds/
AT Ravish has scored music for three songs. Shivaraj Gubbi also from police department lent lyrics for this film. Pawan Gowda is editor for this film.