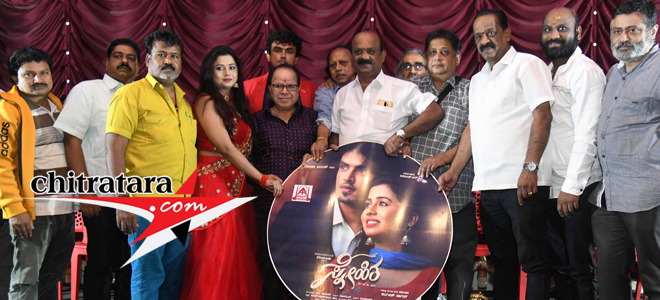 A go getter Dhanush in profession has shown his talent once again via songs of the film 'Snehitha' – a music director is the director from this film. That is Sangeeth Sagar.
The audio of the film was released after the screening of the trailer and two songs at Sri Renukamba Digital Theater. Ba Ma Harish, Ba Ma Girish, veteran director BR Keshava, veteran actor MS Umesh, director and producer Nityanand Prabhu, veteran distributor Nargis Babu graced the occasion.
Coined as an amazing romantic hero Dhanush has set some records from his 'Pyar Ka Gol Gumbaz'. This film screened in England and other places and he has earned some foreign fans. In his new film Dhanush says in life getting friendship is 'Mahaa Bhagya'. He has three action portions.
Ashok is the producer of this film. He owns the Nehru Band set that has been very popular in Bengaluru for a few decades.
Sulaksha Kaira is in the role of Priya. She is happy for a few good songs coming to her and the environment of the shoot was good, she stated. Baby Tanishka is in a short role in this film.
Debutant director and well known music director Sangeeth Sagar has composed six songs for this film. The film is slated for an early release. It is a family entertainer, I thank the producer, and team members for supporting Sangeth Sagar.
In a supporting role in 'Snehitha' veteran actor MS Umesh felt happy after watching the film trailer and songs after two years. He thanked the director and producer for giving a good role.
Babu Bhagavathar is co director of 'Snehitha', cinematography handled by Kamal Singh, Harikrishna and Rajashekhara Reddy handled editing, Vinay, Harish Tony composed songs, Ultimate Shivu is stunt director.
Shivaramanna, Manadip Rai, Dr RT Rama, Killer Venkatesh, Pranayamurthy and others are in the cast.