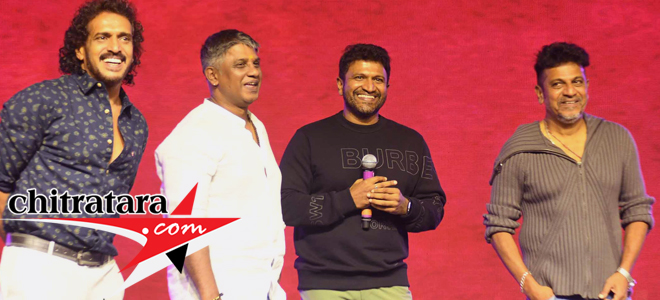 The power star Puneeth Rajakumar, younger brother of Dr Shivarajakumar wants to direct his brother in an edge of the seat film. This project is in discussion for a long time. It is a matter of time for an official announcement.
Power star Puneeth Rajakumar speaking at the 'Salaga' promotional meet at Taj Hotel on Sunday night made it clear that he is thinking on this aspect of getting into direction. My first film will be for my elder brother Dr Shivarajakumar, he said. On the stage a rehearsal for 'Camera, lights, sound and Action' was told by Puneeth Rajakumar, Dr Shivarajakumar behind Puneeth Rajakumar faced the television cameras by saying `I Love you, love you and you must love me` gathered good applause at the packed auditorium. It was as if one particular shot in Puneeth Rajakumar`s direction for his brother Dr Shivarajakumar.
However, for direction, Dhuniya Vijay inspired Puneeth Rajakumar. When the announcement of Vijay`s direction came up, he said why should he take so much tension. For me there is Upendra, Santosh Anand Ram, Bharjari Chetan and Puneeth Rajakumar for his debut direction.
Humble Puneeth Rajakumar at the Salaga meet also wished good luck to Kichcha Sudeep Kotigobba 3, Krishna film 'Krishna @gmail.com. He hoped that audiences would come back to the theatre to give a good ground for Kannada cinema.
When Power star Puneeth Rajakumar mentioned his ambition, Upendra, Shivarajakumar, Dolly Dhananjay, KP Srikanth , Dhuniya Vijay came up on stage.