ANITHA BHAT `INDIRA` PUNEETH RELEASE POSTER
Posted date: 11 Mon, Oct 2021 09:16:18 AM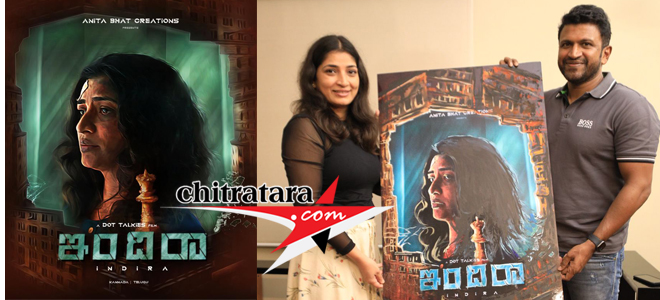 The top actress from super hit Kannada film 'Psycho' Anitha Bhat foraying into production is a known factor. Now for her third film 'Indira' in which she plays a special role is in news.
Power star Puneeth Rajakumar released the poster of Anitha Bhat third production 'Indira' and wished for the success of the film.
In 'Indira' Anitha Bhat is in a blind role. I lost my sight in an accident in the film. What is the reason for this accident is a curious factor. Rehaman, TV journalist is playing her husband. Chakravarthy Chandrachud, Neethu, Shafi are in prominent roles in this psychological thriller.
The attitude of Neethu, Shafi and Chakravarthy is very important in this film. Meanwhile Anitha Bhat 'Samudram' film poster was released by roaring star Srimurali on the last Ganesha Chaturthi festival day.
This Kannada and Telugu film 'Indira' is in Rishikesh direction.
Kannada Cinema's Latest Wallpapers
Kannada Cinema's Latest Videos
Kannada Movie/Cinema News - ANITHA BHAT `INDIRA` PUNEETH RELEASE POSTER - Chitratara.com
Copyright 2009 chitratara.com Reproduction is forbidden unless authorized. All rights reserved.