KAPO KALPITHAM SUMITHRA DIRECTION READY
Posted date: 13 Wed, Oct 2021 01:03:12 PM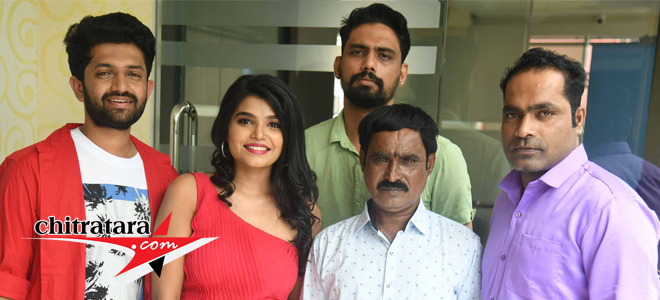 Another woman director Sumithra Gowda comes to Chandanavana from 'Kapo Kalpitham' Kannada film, a horror cum thriller subject. Sumithra Gowda is not just a director but she is also lead actor and her father Ramesh Chikke Gowda is co-producer with Kavitha Kannika Poojari and Ganidev Karkala.
A confident looking lady director Sumithra Gowda expressed the strain and stress she had taken for 30 days of shooting. We broke the 'Kumbalakayi' finally at 4.30 am one day and felt happy for the shooting proceedings she says. She acquired knowledge of direction at the time of 'Jishnu' she was associate director and in this film she is a complete director. The film has negative and positive shades, there is father and daughter affection besides horror and suspense in the film. The shoot held at Dakshin Kannada and Udupi gave me great experience, adds Sumithra Gowda. She wants to continue with twin professions in the coming days. Sumithra Gowda with a certificate from Anupam Kher Institute found it easy in the direction department.
Amogh a teacher by profession is playing an aggressive role, male protagonist Pritam Makkihali (qualified in Anupam Kher Institute) is a soft person who tames his team of five members. We need the media support to carry forward in the profession he says. The film revolves around nine characters.
Ganidev Karkala, writer of story, screenplay, dialogues, lyrics and music says it is about five journalists who make an investigation on a particular 'Rahasya' and we found a place at Belthangady that is a very important factor for this film he says.
The film got U/A certificate from the regional censor board. Shivaraj Kerkora, Rajesh Kannur, Vineesh, Vishal, Chytra Dikshit Gowda and others are in the cast.
It is Savyachi Creations in association with Akshara Production. Bathukulaal has done cinematography and editing for this film. Roshan Gowda has looked after the production for this film.
Kannada Cinema's Latest Wallpapers
Kannada Cinema's Latest Videos
Kannada Movie/Cinema News - KAPO KALPITHAM SUMITHRA DIRECTION READY - Chitratara.com
Copyright 2009 chitratara.com Reproduction is forbidden unless authorized. All rights reserved.