KOTIGOBBA 3 AND SALAGA ROCKS IN BOX OFFICE
Posted date: 20 Wed, Oct 2021 06:16:48 PM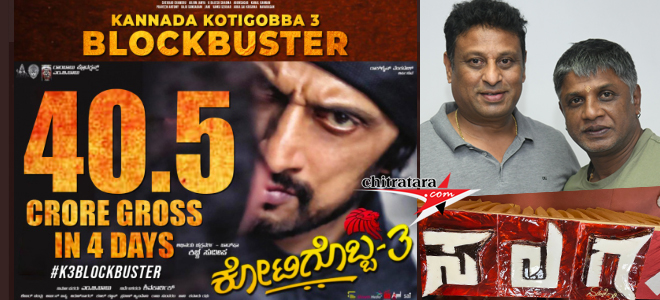 The 100 percent permission to exhibit films after Corona pandemic receding has paid good results to the entertainment industry This is evident from the two successful films of Kichcha Sudeep Kotigobba 3 and Dhuniya Vijay 'Salaga' conquering the victory in theatres.
For the Kannada cinema industry, this victory of Kichcha Sudeep and Dhuniya Vijay was very much wanted. The two mega films occupying almost all the screens in Karnataka is a signal for non Kannada films not to release when biggies are around.
Kotigobba 3 of producer Soorappa Babu has shown a gross collection of Rs.12.5 crores on the first day – 15th of October and in four days it has reached the collection of Rs.40 crores. In a week or so the other languages of Kotigobba 3 are set for release. Kichcha Sudeep had re-tweeted the collection report and felt happy. He thanks everyone for such a glorious moment.
Dhuniya Vijay alias Vijaykumar from 'Salaga' debut direction has seen an extraordinary collection that is over Rs.8 crores on the first day October 14. The team of Salaga and the distributor cut a huge cake for the celebration. On coming Thursday Salaga of producer KP Srikanth is also convening a media meet to disclose the collection part. Meanwhile Jayanna combines part of the distribution network and is getting ready the actual collections made by 'Salaga'.
Salaga is running in 344 theatres and Kichcha Sudeep Kotigobba 3 has over 300 screens.
Kannada Cinema's Latest Wallpapers
Kannada Cinema's Latest Videos
Kannada Movie/Cinema News - KOTIGOBBA 3 AND SALAGA ROCKS IN BOX OFFICE - Chitratara.com
Copyright 2009 chitratara.com Reproduction is forbidden unless authorized. All rights reserved.