CREATIVE TIMES STUDIO STARTS
Posted date: 21 Thu, Oct 2021 05:27:24 PM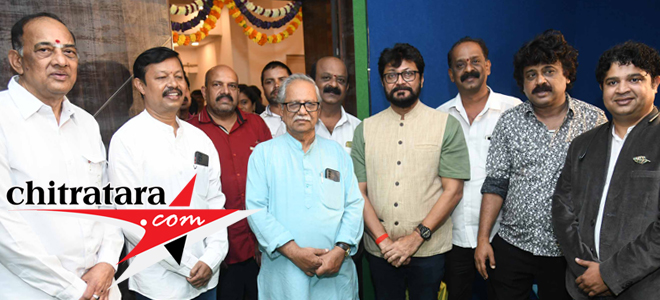 The pride of Bukkapatna Vasu is the evolution of this 'CREATIVE TIMES STUDIO'- the major development in the career of Bukkapatna Vasu was inaugurated in the presence of prominent personalities. Bukkapatna Vasu has already in his business Century Films Institute that is giving training to students of cinema. This is the continuation of his business expansion.
As a writer, director in the last 30 years in small screen and big screen Bukkapatna Vasu latest studio near BDA Complex near Nagarabhavi 'Creative Times India Private Limited was inaugurated by Padmasri Dr Doddarange Gowda, in the presence of Karnataka Chalanachitra Academy President Suneel Puranik, KFCC Vice President Umesh Banakar, Century films Kannada director OM Saiprakash, music director V Manohar, Bama Harish, Ba Ma Giris, Bhavyasri Rai and others.
The specialties of this studio are that it has latest technical equipment and like the title of the studio new advancement will occur repeatedly, says Sri Saikrishna. As of now in one floor all facilities are provided for the cinema and TV field activities.
We have started this studio primarily for ad film shoot. We are starting films now but my friends Sri Saikrishna and Naveen came forward with state of the art. Then the green mat studio, editing studio evolved. When Sound engineer Palani joined hands the recording studio came to existence. Now if you come with a cinema script you can go with the first print. Prem, Shekhar, Palani, Renu Studio also joined hands now, says Bukkapatna Vasu.
Veteran director Om Saiprakash speaking about the achievement of his 28 friend Bukkapatna Vasu said the development that is seen in adjacent Andhra Pradesh is not happening in Karnataka. Every star owns a studio and the film industry has grown leaps and bounds.
Wishing good luck to Bukkapatna Vasu the renowned Prof Doddarange Gowda, he said Vasu had made him write 11 songs once for a mega television serial. I have a long bondage with Vasu from the time of 'Kumkuma Bhagya' TV serial, he said.
The new challenge of Bukkapatna Vasu should be lauded as he gives all post production activities in one roof stated KCA President Suneel Puranik.
Kannada Cinema's Latest Wallpapers
Kannada Cinema's Latest Videos
Kannada Movie/Cinema News - CREATIVE TIMES STUDIO STARTS - Chitratara.com
Copyright 2009 chitratara.com Reproduction is forbidden unless authorized. All rights reserved.