NAANI, RAMMI AND MONI TOGETHER AGAIN!
Posted date: 24 Sat, Nov 2012 ? 10:57:46 AM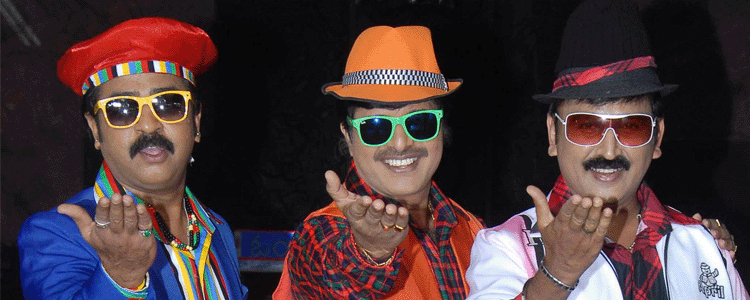 The official announcement of 'Naani, Rammi and Moni' after Kurigalu and Kotigalu….has been announced on Friday evening. The muhurut for the film was held at Doddaganapathi temple in Basavanagudi. The director of three 'Saar' series – Kuri, Kothi and Kaththe – SV Rajendra Singh babu directed the first shot of this untitled film of trios.

It was funny and tickling for the people who thronged for the muhurut of the film. In the evening the trio addressed the media with cameraman Jagadish Wali.

In response to the ads put up for what should be the title and who should direct the film – the response in five days has come from over 25000 people. Out of which 25 titles selected will be short listed. The title will be announced on December 10 the muhurut day of the film. Meanwhile Ramesh Aravind is not directing the film and that has made ace director S Narayan to direct the film for his Paddma Sundari Creations.

The script of this film is prepared by Ramesh Aravind and it is set in the Madikeri backdrop. S Narayan director, producer and actor want Kannada speaking three heroines to this film. Rangayana Raghu, Umasri, Mukyamantri Chandru and Sadhu Kokila are also in the cast. Four songs are part of this film.

The roles of Ramesh Aravind, S Narayan and Mohan will be with some similarities to the previous two films.

Although story is lent by me the additional inputs from Narayan and Mohan are added to it said Ramesh Aravind. Mohan felt happy to work in S Narayan direction.

This is production No.1 of the new banner floated by S Narayan with his son Pawan Kumar as producer.
GALLERY
Kannada Cinema's Latest Wallpapers
Kannada Cinema's Latest Videos
Kannada Movie/Cinema News - NAANI, RAMMI AND MONI TOGETHER AGAIN! - Chitratara.com
Copyright 2009 chitratara.com Reproduction is forbidden unless authorized. All rights reserved.