Posted date: 22 Thu, Jul 2021 01:59:41 PM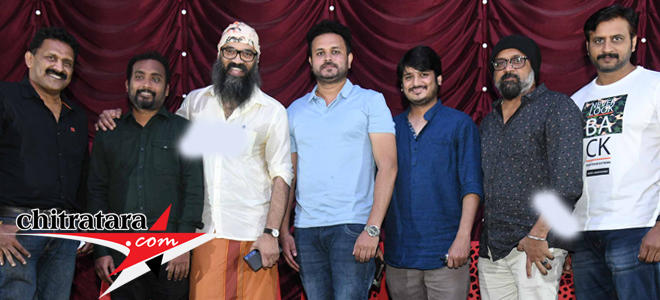 Here is a unique and special attempt from very popular dance director turned director Prabhu Srinivas in his fifth directorial venture. It is `Body God` and he has made it to everybody of the present generation.
`Body God`looks at the social issue of brain drain and the sufferings of the parents at home. In most of the cases, providing comfort but not emotional connectivity is focused. In the given situation of old parents and children separated, a few make use of the situation to their whims and fancies. This is the hairline story of Prabhu Srinivas `Body God – in fact the film revolves around a `Dead Body` played by ace director and actor Guruprasad. Director Prabhu Srinivas` previous two films in Kannada`Ganapa` and `Kariya 2` did wonderful records at the box office. He promises good entertainment from his latest film. He has completed most of the shooting. One promotional song featuring power star Puneeth Rajakumar has to be recorded – September is the month he hopes for release. Thanking Guruprasad for being part of this film and giving some useful tips, Prabhu Srinivas says it is a rib tickler at many places. One scene between the protagonist of the film Manoj and Ashwin Haasan – if you don`t laugh I will walk out from this film industry, he says with high confidence. Prabhu Srinivas thought of a Kannada title but all of them were registered. Finally he decided on `Body God` with the caption Gombe Adsonu.
Prabhu Srinivas planned this film with event manager cum director Niranjanin the beginning but later the pandemic made him to get the permission to make for his debut production.
Director of super hit films like Matha, Eddelu Manjunatha, Director Special etc Guruprasad is in a `deadly performance – he is 60 plus age old in the film spends some time in the refrigerator, he has punching lines and acting is a cake walk for this actor. Nearly 50 films to his credit in acting Guruprasad for the first time have wife character Padmaja Rao. It is in Padmaja Rao room of her`Shooting House`Guruprasad acted as her husband. This film is really special and in forty days of shooting, I took part for about 12 days. There is good dedication in Prabhu Srinivas. I was paid very good remuneration for my role and I have to dub for my portion. I have a fight in this film and that is also for the first time adds talkative Guruprasad.
Protagonist of the film is Manoj. He is in the 13th year of his film career. He acted in `Moggina Manasu` and the hero in `O Premave`– son of an MLA in real life Manoj appears in a lower middle class youngster role. The ups and downs in the role and maintaining the body of Guruprasad in the film is his task.
Event manager and director Niranjan planned this film with director Pawan Kumar when Prabhu Srinivas narrated the script but finally it landed to Prabhu Srinivas production. Niranjan has nearly six very good scenes in this film.
Karan Krupa, music director of Ganapa and Kariya 2 is very confident of good lift for the film from re-recording. Nearly 10 times we changed the pattern for this film that has two songs he adds.
Kannada Cinema's Latest Wallpapers
Kannada Cinema's Latest Videos
Kannada Movie/Cinema News - BODY GOD FOR EVERYBODY - Chitratara.com
Copyright 2009 chitratara.com Reproduction is forbidden unless authorized. All rights reserved.