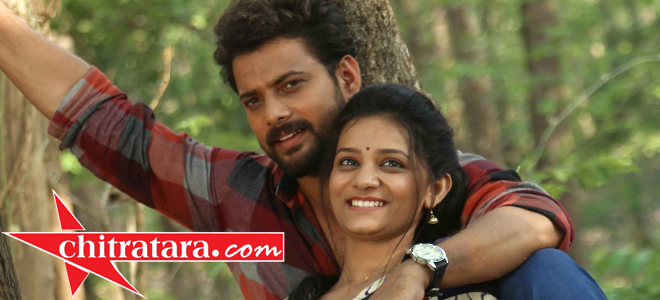 Title – Choori Katte, Producers – S Nayazuddin, Tulasi Ramudu, Direction – Raghu Shivamogga, Music – Vasuki Vybhav, Cinematography – Adwaith Gurumurthy, Cast – Praveen Tej, Prerana, Achyuth Kumar, Sharat Lohitashva, Dattanna, Balaji, Pramod Shetty, Kiran Nayak, Manjunath Hegde and others.
The debutant Raghu Shivamogga has shown excellence in many circumstances of his 140 minutes 'Choori Katte'. A short film 'Chowka Baara' winner in his first feature film could have reduced the film by 10 to 15 minutes. Otherwise there are no flaws in giving a commercial cinema with good guessing elements for cinema lovers in addition to right selection of artists and technicians.
This is the best of Praveen Taj (of simple Ag Innond Love story, B 5 hero and small screen actor). The second half look especially when he gets ready for police training he looks dam good and any heroine would love to work with him. Prerana is another heroine gets noticed in her debut like director Raghu Shivamogga strikes in as director.
The two dashing actors who scores over everyone are Achyuth Kumar and Balaji Manohar.
Kannada Amjad Khan
Balaji Manohar as Seena is a villain of coming days with good potential . There is no doubt about it.
Vasuki Vybhav as music composer has given right feelings through his scores and melody, pep and sorrow mood are placed with lovely lyrics is another high point.
It is Adwaitha Gurumurthy in camera gives national geography feel in some places. The majority of the film is set in backdrop of a forest. Adwaitha is like Vishistadwaitha!
What is this 'Choori Katte' all about? It is a place where the timber is smuggled. With the entry of Ravikath (Achyuth Kumar) as SP to the area the life becomes miserable for operators. On the other hand it is constable of future Adi who gives the first clue to Ravikanth. There is a love and hate relationship between Ravikanth and Adi. Yet the forest officer (Manjunath Hegde) corrupt practices support the timber mafia. The connecting point for this activity of timber mafia is Seena (Balaji Manohar) uncle of Kala (Prerana) creates havoc. For this havoc the stealing of SP pistol by Adi on her girl friend Kala stands as reason. Kala wants to take revenge on Ravikanth because he has shot at Seena. Kala is innocent at this stage and she is hell bent on trouble to Ravikanth SP. The loss of his department pistol would be loss of his job is the idea of Kala.
This stealing of pistol is a big tension for Ravikanth. A few murders including that of timber mafia lord (Sharat Lohitashva) takes place.
Who does such murders, what is the fate of SP Ravikanth, whether Adi completes his police training, Kala corrects her innocence, what happened to corrupt forest officer? You have to watch this film 'Choori Katte'.
One thing is sure – at least four from this film 'Choori Katte' are going to be happening artists and technicians.
It is a good experience to watch this film. 'Choori Katte' has all the qualities of a box office film.