NINNA SANIHAKE NIMMA SANIHAKE ON AUG 20
Posted date: 24 Sat, Jul 2021 12:01:45 AM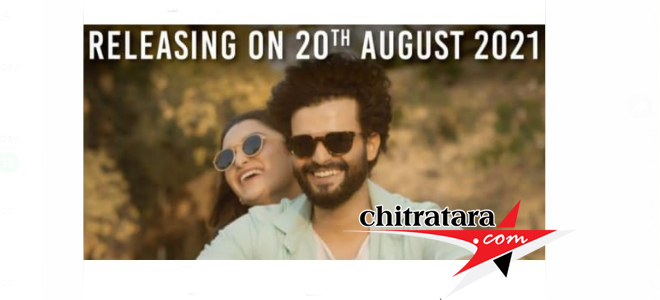 The debut from third generation of Dr Rajakumar family – this time a female lead Dhanya Ramkumar (daughter of Poornima and Ramkumar) with handsome hunk and bright Suraj Gowda in lead role and also heading the direction department 'Ninna Sanihake' is all set to hit the silver screen on August 20, Varamahalakshmi Day.
Sooraj Gowda from acting to direction has taken over from Suman Jadhugar and 'Ninna Sanihake' is by duo producers Akshay and Ranganath.
Music director Raghu Dixit has done a tremendous work it is reliably learnt and Abhilash is cameraman of this film.
'Ninna Sanihake' is a romantic-comedy category film – long wait the sweeter is the result hopes Suraj Gowda. This is a dream of so many of us, each wanting to make our mark in the film industry, is now ready for you to see says Sooraj Gowda. As a writer and director it is the first film and anxious to know the results. On auspicious Varamahalakhmi day, August 20, 2021 we will see you in a cinema hall near you – Nimma Sanihake' adds Sooraj Gowda.
Kannada Cinema's Latest Wallpapers
Kannada Cinema's Latest Videos
Kannada Movie/Cinema News - NINNA SANIHAKE NIMMA SANIHAKE ON AUG 20 - Chitratara.com
Copyright 2009 chitratara.com Reproduction is forbidden unless authorized. All rights reserved.