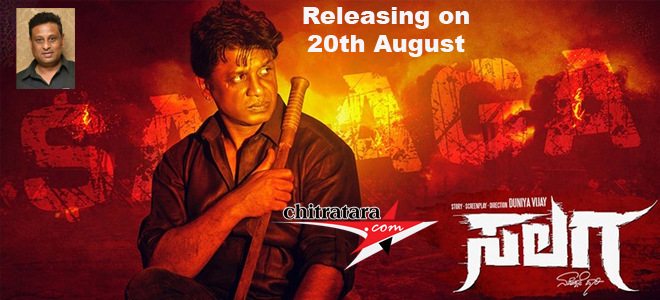 The popular action hero debut direction `SALAGA` is hitting the silver screen all over Karnataka on August 20, 2021 – Varamahalakshmi festival day.
The much expected film of Dhuniya Vijay passing many hurdles and emotional moments is hoping for 100 percent capacity permission for cinema halls in the first week of August.
Another popular producer KP Srikanth is producer of this film and Sanjana Anand of Chemistry of Kariyappa is the female lead in this film.
The film was expected to hit on April 15 2021. Corona`s second wave consumed the happiness of so many in the country not allowed for the release.
What is Salaga all about? It is not just a nexus between the police and underworld in the system. The police make use of the underworld to meet their whims and fancies are focused in this film.
Charan Raj had done re-recording . Masthi of 'Tagaru' fame has written dialogues. The reasons for becoming rowdies are dealt with in the beginning of `Salaga`.
The film has prominent actors like Achyuth Kumar, Dolly Dhananjay, Rangayana Raghu,Yash Shetty, Cocoroach Sudhir, BV Bhasker, Nagabhuhan and others in the cast.
A2 music has released the songs, Shiva Sena is cinematographer, Vinod has done stunts and Mohan is assistant director of this 'Salaga'.