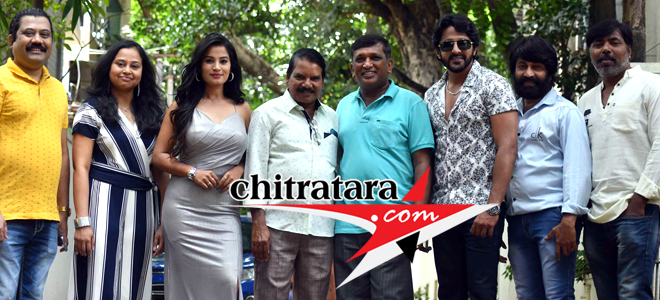 A full length action film for Chaco hero Dharma Kirthiraj 'Khadak' is hitting the silver screen on June 17 all over Karnataka. Producer Kamal has also acted in a prominent role in this TN Nagesh directorial venture. Producer Kamal admits that the budget of this film doubled in the process of making a competitive film.
Valli is co-producer and very happy for the progress of the film. Despite not making payment artists cooperated for shooting he said.
Director of over 20 years experience TN Nagesha of films like Rame Gowda VS Krishna Reddy, Olave Vismaya, Panchamrutha, Rama Dhaanya etc has taken a subject that is so relevant to the society. The film is on drugs and smuggling. How the drugs are swallowing youths and smuggling is bringing bad name to the society is the topics discussed in the film. There are four songs in this film.
Dharma Keerthiraj with 13 years of stint in cinema says there is no error while making the film and audiences can expect a very good commercial cinema. Director Nagesha made Olave Vismaya and he is now in an action film Dharma Kirthiraj mentioned. I am an undercover cop in this film. I have three films ready now and three on floors, says Dharma Kirthiraj.
Anusha Rai, female lead, says she is in frame to frame. I have two songs and two shades in this film she adds. Very popular comedy actor Chandraprabha doing wrong work takes scope in his comedy track.
MN Krupakar, music composer of over 50 films has done the music and Dr Priyadarshini song Saddillade….is on top in rating he says. Dr Priyadarshini will be in my future films also, he adds.
Dr Priyadarshini says the song she has delivered is western love melody.
KFCC President Ba Ma Harish, Shilpa Srinivas, TP Siddaraju and Prabhu present to bless the team of 'Khadak'.